So simple yet so tasty, Pork Stir Fry features fresh zucchini, green beans, garlic, and ginger tossed in a spicy stir fry sauce. This easy 30-minute stir fry is the perfect choice for a simple weeknight meal.
Pork Stir Fry has quickly become a family favorite. It's easy to adapt with whatever veggies you need to clear out of your fridge, and it'll be ready on the table in 30 minutes (or less!).
If you've got some fresh garden veggies, this dish is the perfect way to use those up! As written, I would rate this dish as mild– mild enough my little boys inhale this meal — it's one of their favorites. That said, I typically like a bit more spice (the spice adds so much flavor!) so I'll usually add more chili garlic sauce to my individual portion. If you are making this dish for people that enjoy spice, feel free to increase the chili garlic addition to a tablespoon or more (just taste and adjust until the spice levels suit you!)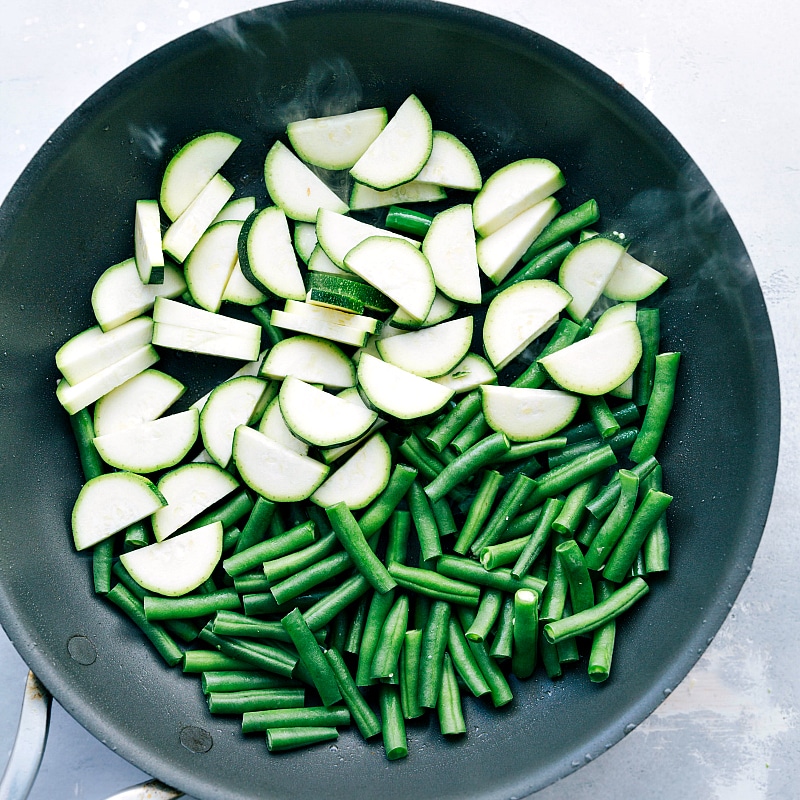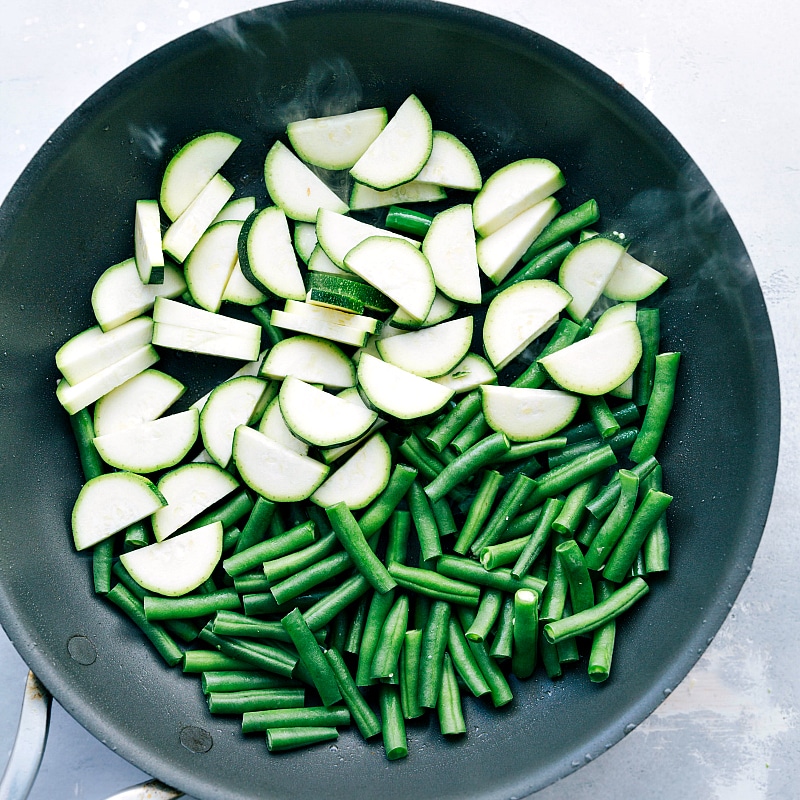 How to make Pork Stir Fry
When making a stir fry, once the cooking starts, everything comes together fast. So, you want to make sure you've got everything ready to go before starting. This includes whisking together the stir fry sauce, chopping the veggies, and mincing the aromatics. 
Once everything is set out and ready to go, start by browning the pork. Avoid stirring too much at the start, so the pork gets a nice brown crust, which will contribute to a delicious flavor. Transfer to a plate while cooking the veggies. 
Char the veggies in the hot skillet, add the stir fry sauce, reduce it, combine everything together, garnish and it's ready to eat!
What to serve with Pork Stir Fry
The great thing about stir fries is that they are typically pretty balanced meals. They're loaded with protein and veggies, which means there's not a big need for many side dishes. 
That said, this cool and crisp Asian cucumber salad would make a great side dish and complement the flavors nicely.
You'll also likely want to whip up some white or brown rice or even quinoa for the base of the stir fry (how to cook quinoa guide here!).
My favorite base for Pork Stir Fry is ginger basmati rice. Here's how to prepare it.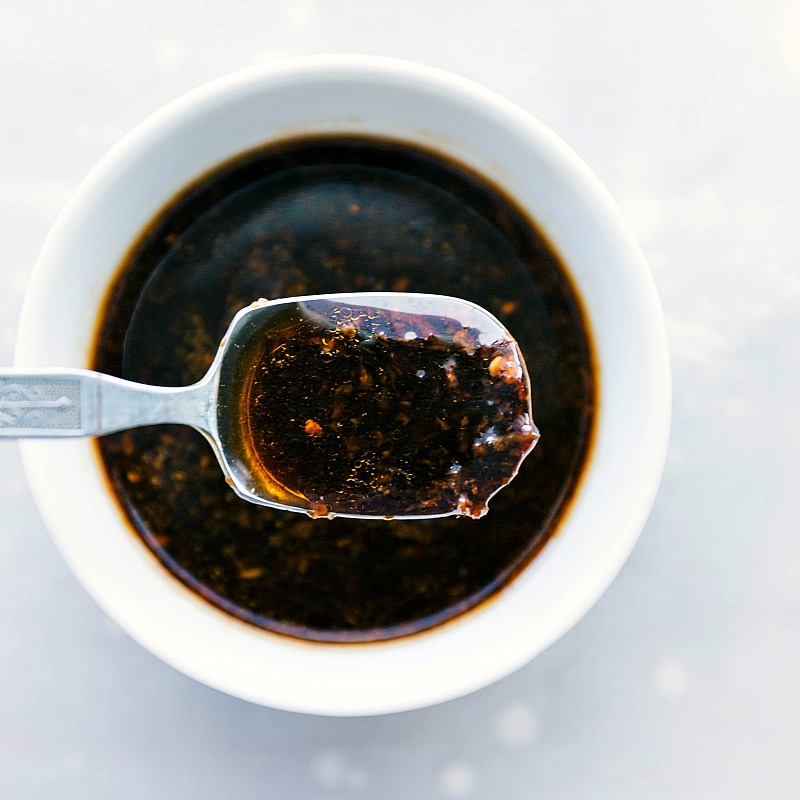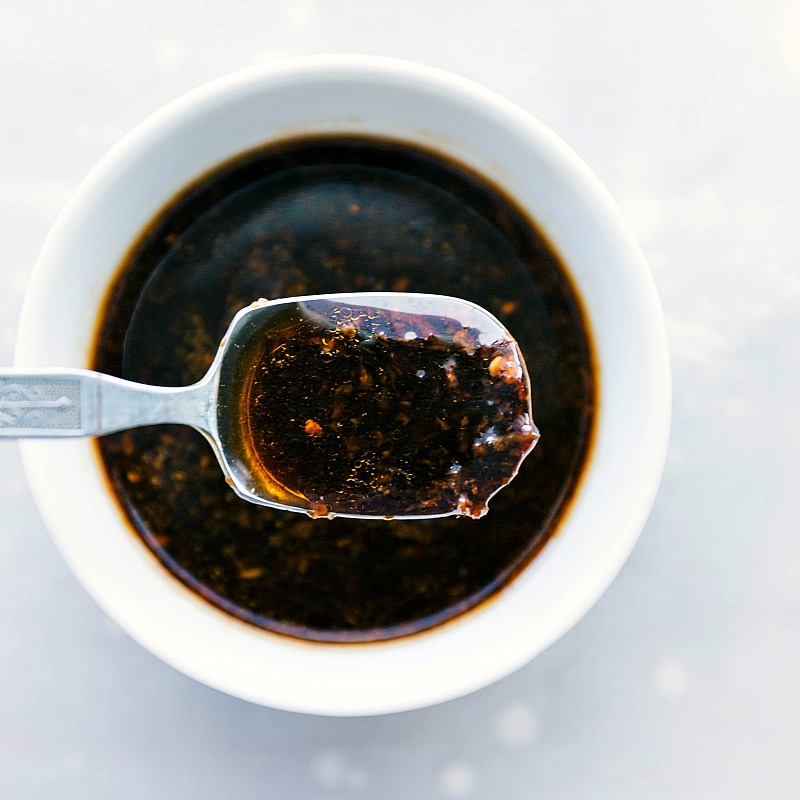 Variations
Swap the ground meat. While I personally haven't tried any meat substitutions for the ground pork in this stir fry, I would imagine ground chicken or ground turkey would work well. Here are some considerations when using ground chicken, such as being more aggressive with seasonings.
Switch out the veggies. Use all zucchini or all green beans instead of the combo, swap out asparagus for the beans, or maybe use summer squash instead of zucchini. 
Try additional garnishes. Add toasted sesame seeds and your favorite fresh herbs (we like scallions/green onions) to top off this dish.
Use more spice. Serve sriracha sauce on the side or increase the chili garlic sauce in the stir fry recipe.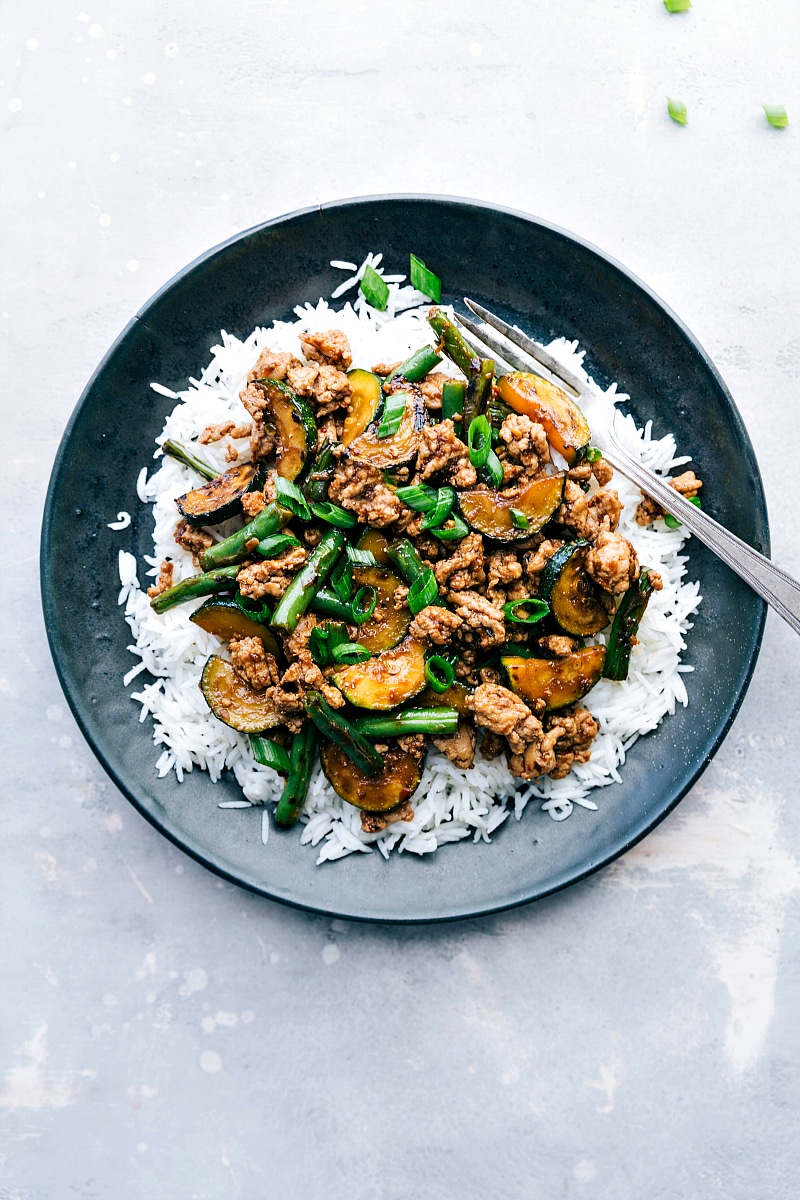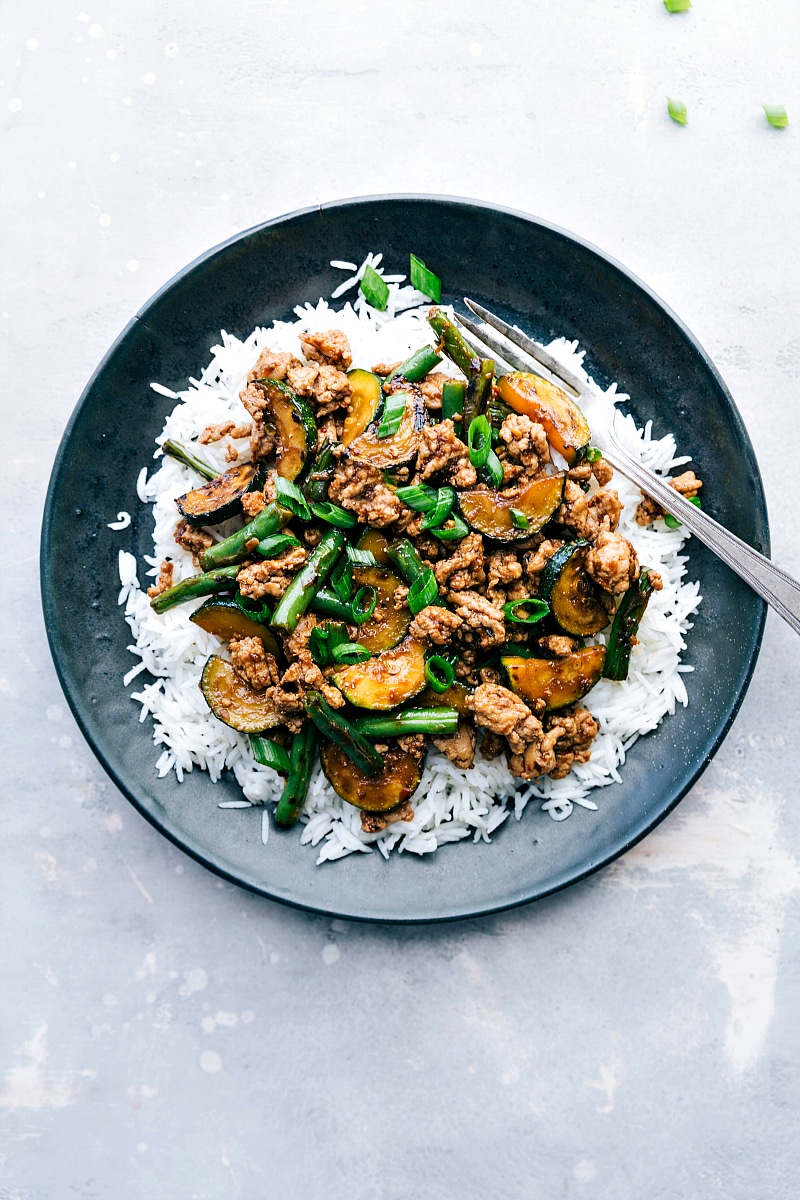 More 30-minute dinner ideas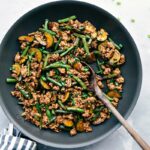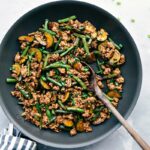 Pork Stir Fry
So simple yet so tasty, Pork Stir Fry features fresh zucchini, green beans, garlic, and ginger tossed in a spicy stir fry sauce. This easy 30-minute stir fry is the perfect choice for a simple weeknight meal.
Course: Dinner, Main Course
Cuisine: American, Chinese
Keyword: pork stir fry
Servings: 4 servings
Calories: 188 kcal
Ingredients
Sauce
1

teaspoon

corn starch

2

tablespoons EACH:

regular (not lite) soy sauce, rice vinegar

1

tablespoon

finely minced fresh ginger

2

teaspoons

finely minced fresh garlic

2

teaspoons

Asian chili garlic sauce (like Sambal Oelek)

(See Note 1)

1/4

cup

chicken broth

1

tablespoon

light brown sugar,

(not packed)

1

teaspoon

sesame oil

fine sea salt and freshly cracked pepper
Stir Fry
1/2

pound (8 ounces)

zucchini,

cut into half moons (~1 medium)

1/2

pound (8 ounces)

green beans,

trimmed and cut into 1 inch pieces

2

tablespoons

vegetable oil,

divided

1

pound

ground pork

1/4

cup

thinly sliced green onions

Serve with: cooked rice, toasted sesame seeds, and fresh lime.
Instructions
SAUCE: In a small bowl, whisk the soy sauce and cornstarch together with a fork until smooth. Add in the rice vinegar, finely minced ginger, finely minced garlic, chili sauce (See Note 1), chicken broth, brown sugar, and sesame oil. Season to taste with salt and pepper (I add 1/4 teaspoon of each). Whisk to combine and set aside.

PREP VEGGIES: Cut zucchini in half lengthwise and then cut into half moons about 1/2-inch thick. Trim green beans and cut into 1-inch pieces. Set aside. Line a large shallow bowl with paper towel and set aside.

COOK PORK: Heat a large frying pan or wok over medium-high heat. Once hot, drizzle 1 tablespoon of the oil around the pan, add the pork, and season with salt and pepper to taste (I add a pinch of each). Let cook without touching for 30 seconds, and then break the pork into small, bite-sized pieces and continue cooking until golden brown, about 6-9 minutes. Transfer pork to paper-towel-lined bowl and set aside.

COOK VEGGIES: Add the remaining 1 tablespoon of oil in the pan and increase heat to high. Add beans and zucchini when the pan is very hot, spreading out to cover the base of the pan. Leave for 1 minute and then quickly stir, spread them out again, and cook for 30 more seconds. Repeat that process once more (for a total of 2 and 1/2 minutes cook time) until veggies are charred but still tender crisp (not soggy). Reduce the heat to low. Add pork back in and stir to combine. Pour in the stir fry sauce.

FINISH: Stir until the sauce is incorporated and the veggies look glossy, about 30 seconds more. Taste and adjust seasonings, adding additional salt or pepper as needed until the flavors sing. You may want to add some additional chili sauce if you want more heat (this chili garlic sauce adds a lot flavor wise as well!). Garnish with the green onions and sesame seeds and serve over cooked rice. Serve fresh lime wedges by the side of the plates or drizzle fresh lime on the finished dish.
Recipe Notes
Note 1: We use 2 teaspoons of chili garlic sauce so it's not too spicy for the kiddos, but I usually add more to my individual plate. Scale this sauce up to heat preference — it adds a lot of flavor overall to the dish. Here's the chili garlic sauce I use. In a pinch, sriracha can be used.